When routine
becomes excellence
Transformers are our daily business. HT-VOLTEQ is your first point of contact for the maintenance, repair and trade of transformers between 50 kVA and 3,150 kVA.
Expert knowledge
We will help you in an uncomplicated way with answers and concrete advice. If possible, also by telephone or e-mail. In order to always be able to provide you with a solution, we regularly undergo further training. Even if you simply need a second opinion, we are there for you.
Inventory
An overview of your stock of spare transformers and switchgears are important. As well as are the condition. We recommend best economic options to be prepared. We are honest about this, even if it sometimes hurts.
Maintenance intervals
To ensure operational safety there are standards and regulations for maintenance. But not all transformers are treated the same way. Priorities have to be set for equipment that is difficult to replace or access. We will be happy to carry out these assessments for you.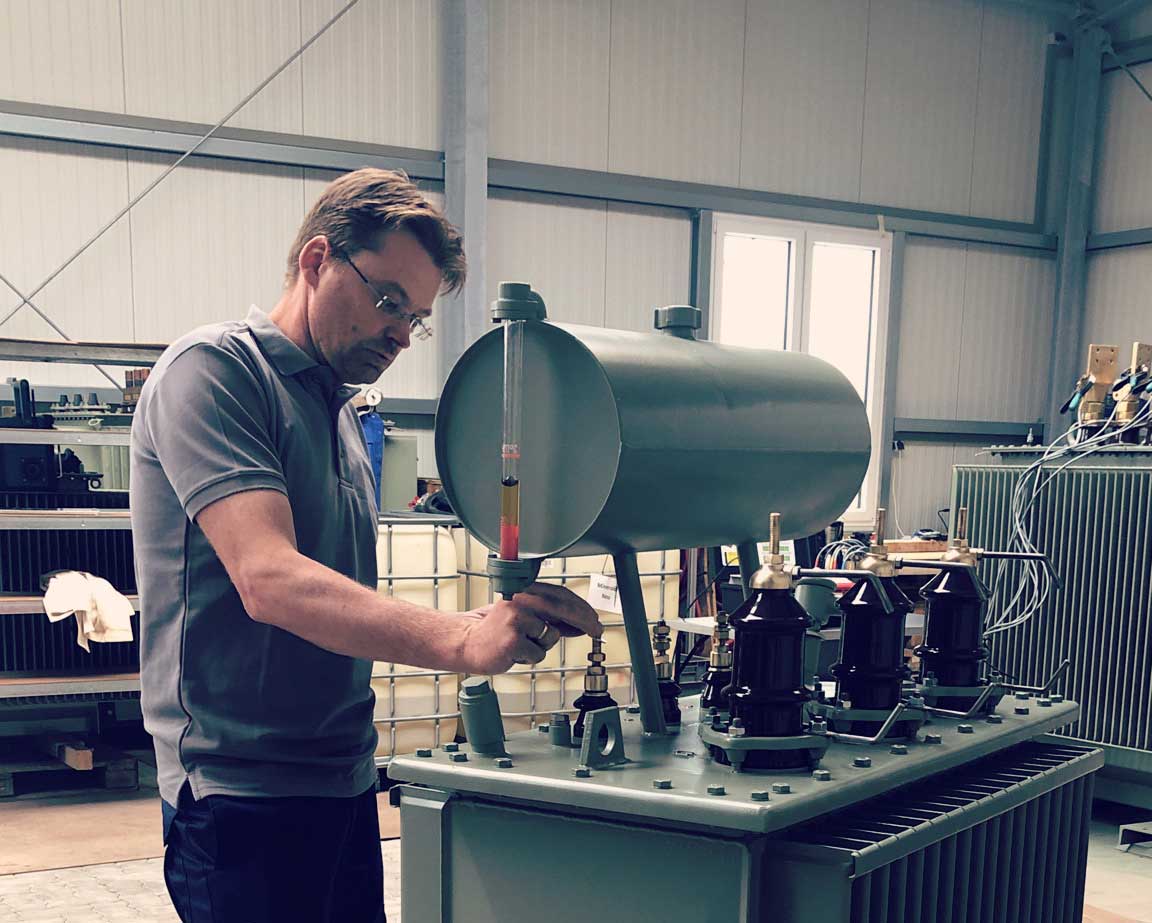 When our experts are at the transformer
Service around
your transformer
Here we provide you with a brief overview of all services related to transformers. If you want to know more, just give us a call. 
Workshop service for transformers
We pick up your transformer directly on site and carry out the complete repair in our workshop in Cloppenburg. Here we have our own test field and oil laboratory to carry out all the necessary tests quickly and carefully.
Transformer station maintenance
Benefit from our all-round carefree package: We take stock of your system and make recommendations on the actual and target condition. In a maintenance contract, we offer permanent maintenance, switchgear inspection and visual inspections.
Accessories
If you need a spare part or accessory for the trouble-free operation of your equipment, our well-stocked warehouse is at your disposal. A simple phone call will tell you whether we have the part you are looking for in stock and how quickly it can be sent to you. Deliveries can also be made overnight.
Emergency management
We take care of emergencies 24/7. As soon as you report an emergency by phone, we record all important information to quickly get an overview of the situation. The search for a spare/replacement transformer and the on-site assessment are carried out as quickly as possible. The repair or replacement is then also carried out immediately by our team.
Transformer trade
The purchase and sale of transformers is one of our specialities. For the quick replacement of defective transformers, we have a selection of common sizes (revised) in our own warehouse. These are also available for other traders to view at any time on the energy technology marketplace eblackout.de.
Oil analyses
Our team is happy to take samples from the transformer directly on site in compliance with the current standards. All samples are checked by a certified laboratory in Germany. Based on the analysis of the results, we can give you a precise recommendation for transformer maintenance.
Do you know our new division?
Trenchless Technology
HDD & Microtunneling
In cooperation with our local partners, we consult, supply and advise companies worldwide on all issues relating to horizontal drilling and microtunnelling systems.
- Consulting services directly on site
(worldwide).
- Procurement of HDD (horizontal directional drilling) or
microtunnelling systems and spare parts.
- Consulting on individual projects from planning to
completion. 
What is the quickest way to get to know us?
You will receive an initial assessment and a preliminary offer directly on the phone.